TOP
Cultured Vine Two-Day Gift Card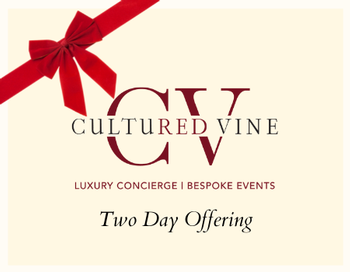 This gift card has a value of $3,000 towards Cultured Vine concierge services of up to 6 guests. This covers Cultured Vine fees in creating your customized itinerary. Accommodations, transportation, food and wine purchases are not included.
Like the perfect food-and-wine pairing, at Cultured Vine, we believe every visit to wine country is so much better with the right personal touch. And like the roots of old trees and vines, we're deeply connected, too. More than 50 top Napa and Sonoma proprietors and winemakers call us "friends" and, as such, they're happy to create customized experiences for our guests...singular ones that are made to match individual palettes and personal interests.
We look forward to planning your next visit and welcoming you back to wine country where unique private experiences await. The time is right for wine country; the grapes are ready, the crowds are gone and your wait is over.
For multiple days, simply add quantity.

After we receive your order, we will reach out to you. If you have any questions, please don't hesitate to reach out to us at team@CulturedVine.com.

We are ready to create the trip of a lifetime.